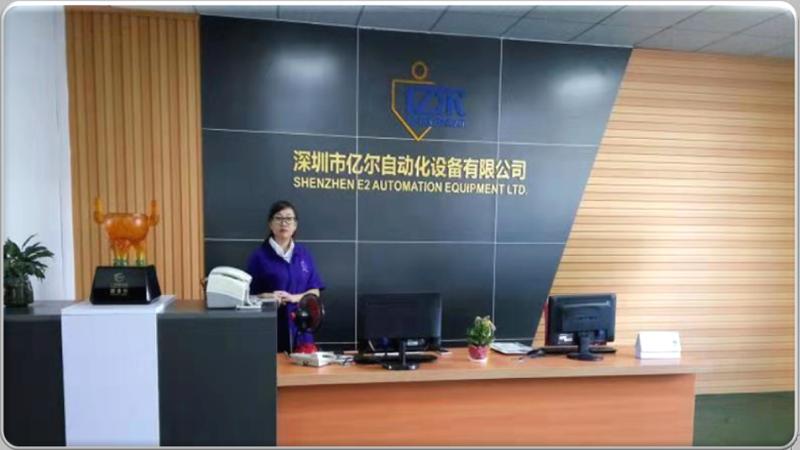 Shenzhen E2 automation equipment Co., Ltd. is an AOI automatic optical testing equipment manufacturing enterprise integrating AOI equipment R amp; D, AOI equipment manufacturing and AOI equipment sales. It has an independent R& D organization in terms of advanced AOI tester and AOI testing equipment manufacturing and assembly workshop. It is a unique and innovative high-tech enterprise in Guangdong,Tel: 13600190181.
Relying on a number of universities, research institutes and the introduction of foreign advanced technology in AOI visual inspection, the company has gathered the top experts in motion control, intelligent robot, automation system, communication, software, non-destructive precision, etc. at home and abroad, and is committed to improving the process quality and production of SMT Industrial automation and AOI visual inspection with nternational advanced high-end technology System equipment complete solution with efficiency and cost reduction.The company has a strong AOI automatic optical detector core team and experienced AOI equipment customer service team to serve you holeheartedly. Our service personnel and R & D personnel have many years of experience in SMT factory manufacturing industry, and fully understand SMT equipment parameters, management structure and production process.AOI automatic optical testing equipment products produced by E2 use super high-definition intelligent Sony industrial camera to test the quality of SMT production and manufacturing; E2's software system intelligently optimizes the AOI testing path, so that the speed of AOI tester can be improved to a higher level, and at the same time, the production efficiency of SMT can be improved; E2's unique fool free AOI operating system makes AOI automatic Optical detection programming becomes simple and can be completed in 5 steps. Our AOI equipment can detect SMT chip defects such as SMT solder paste, SMT reflow soldering before and after various occasions, SMT more tin, SMT less tin, SMT wrong parts, SMT missing parts, SMT offset, SMT turnover, SMT damage, SMT faulty welding, SMT cold welding, SMT empty welding, SMT polarity reversal, etc.
In order to let our customers better understand and experience the performance of AOI equipment, our AOI equipment company can provide free trial service for new customers, so that customers can feel more at ease and more convenient for evaluation.At present, E2 AOI testing equipment is sold by the original manufacturers and agents to facilitate the post marketing work. Up to now, AOI equipment agents of the company are located in all provinces and cities in China, as well as five foreign countries, providing guaranteed services for the majority of SMT enterprises.
--Compared with the same industry, E2 AOI automatic optical detector has the following advantages:
1. E2 AOI equipment adopts high-definition imported CCD industrial camera from Sony, Japan, with higher resolution than ordinary industrial camera.
2. E2 AOI equipment adopts the original CCD industrial camera imported from Sony of Japan with high definition, which fully meets the requirements of SMT precision components 0201 / 01005.
3. The unique training free operating system of E2 AOI equipment, the programming speed is three times higher than that of AOI equipment on the market.
4. E2 AOI equipment adopts imported parts, and its recognition rate and stability are higher than the level of the same industry.
5. Users of E2 AOI equipment software can customize and change, and upgrade for free for life.E2 AOI testing equipment Co., Ltd. is located in the central area of Baoan Fuyong Town, Shenzhen Special Economic Zone. No matter you come from any foreign or domestic area, the adjacent Shenzhen Baoan International Airport and Fuyong wharf are only 6 kilometers away from each other. Guangshen Expressway and national highway 107 are more convenient.
We are always waiting for your visit and the guidance of AOI testing. We are looking forward to your call and cooperation!